A delivery
badge you can
count on
A delivery
badge you
can count
on
Look for the Shop Promise badge
and buy with confidence.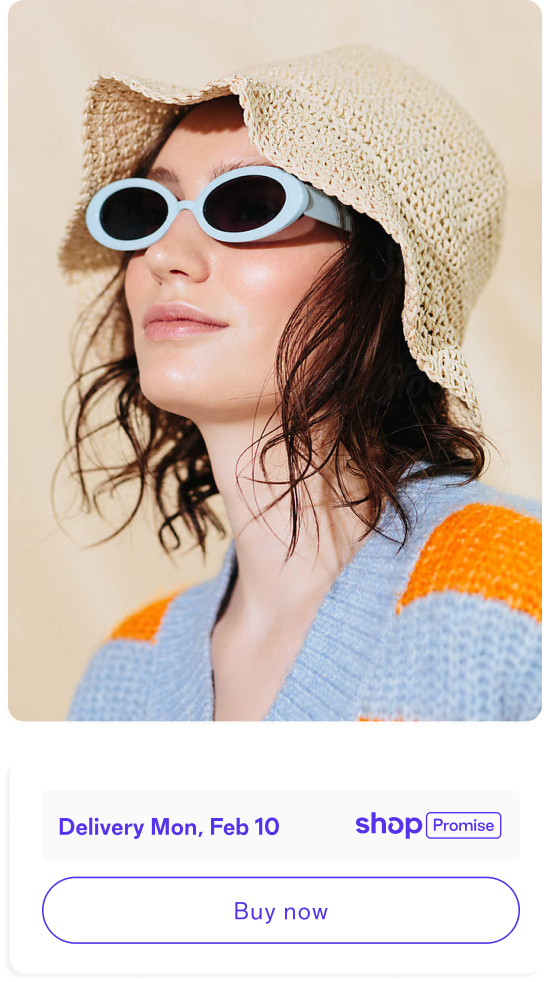 From online store to your front door
Reliable delivery dates
The Shop Promise badge means the product you're buying is verified for reliable delivery in 5 calendar days or less.

Plus, every Shop Promise order can be tracked in real time in the Shop app.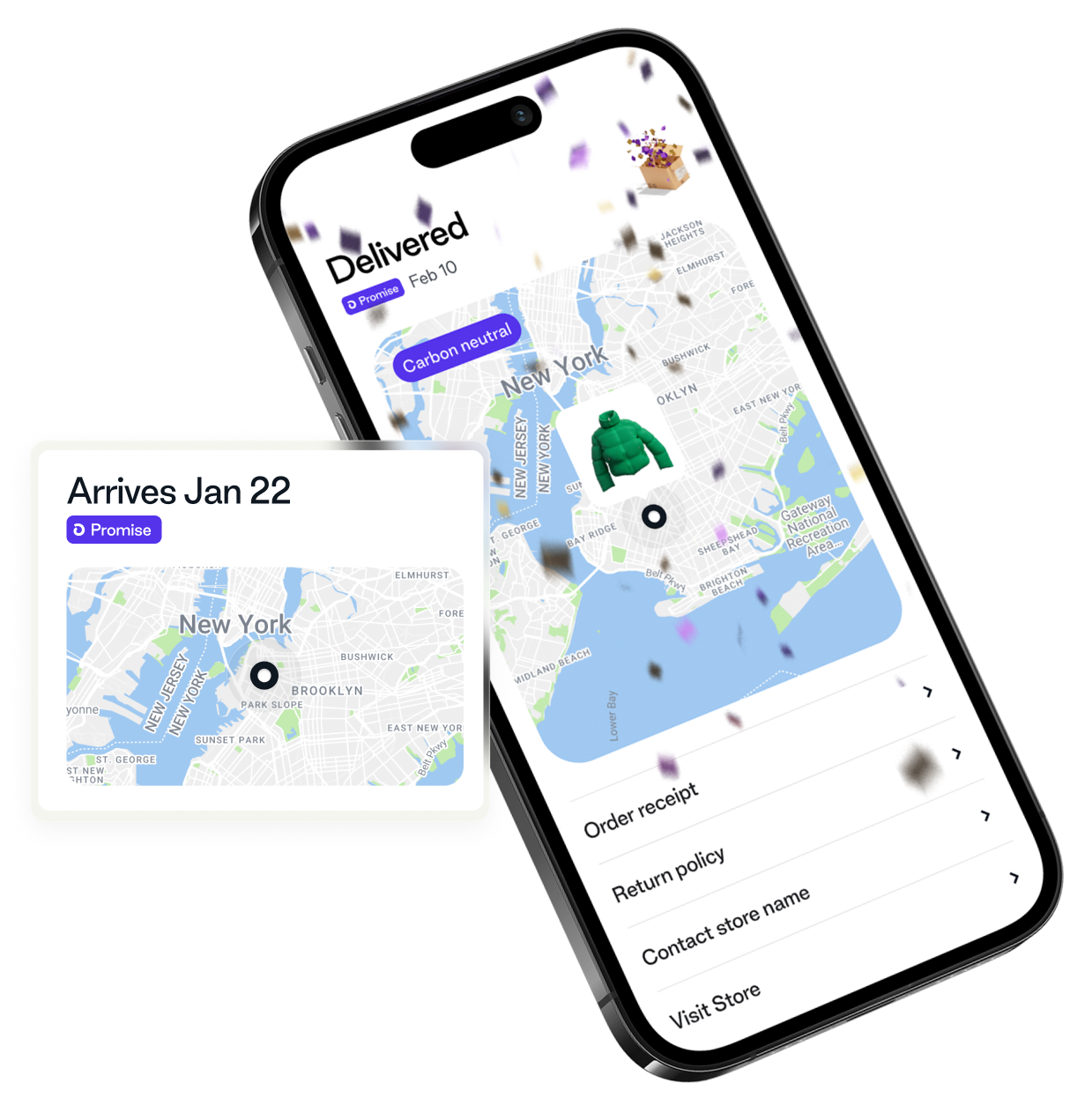 Shop Promise is free for all
No subscriptions or membership fees
Reliable and fast deliveries shouldn't come with subscription fees.
Delivered as promised*
Backed by
a guarantee
Orders with the Shop Promise badge made using Shop Pay are backed by a guarantee, meaning you could receive Shop Cash if your order arrives late.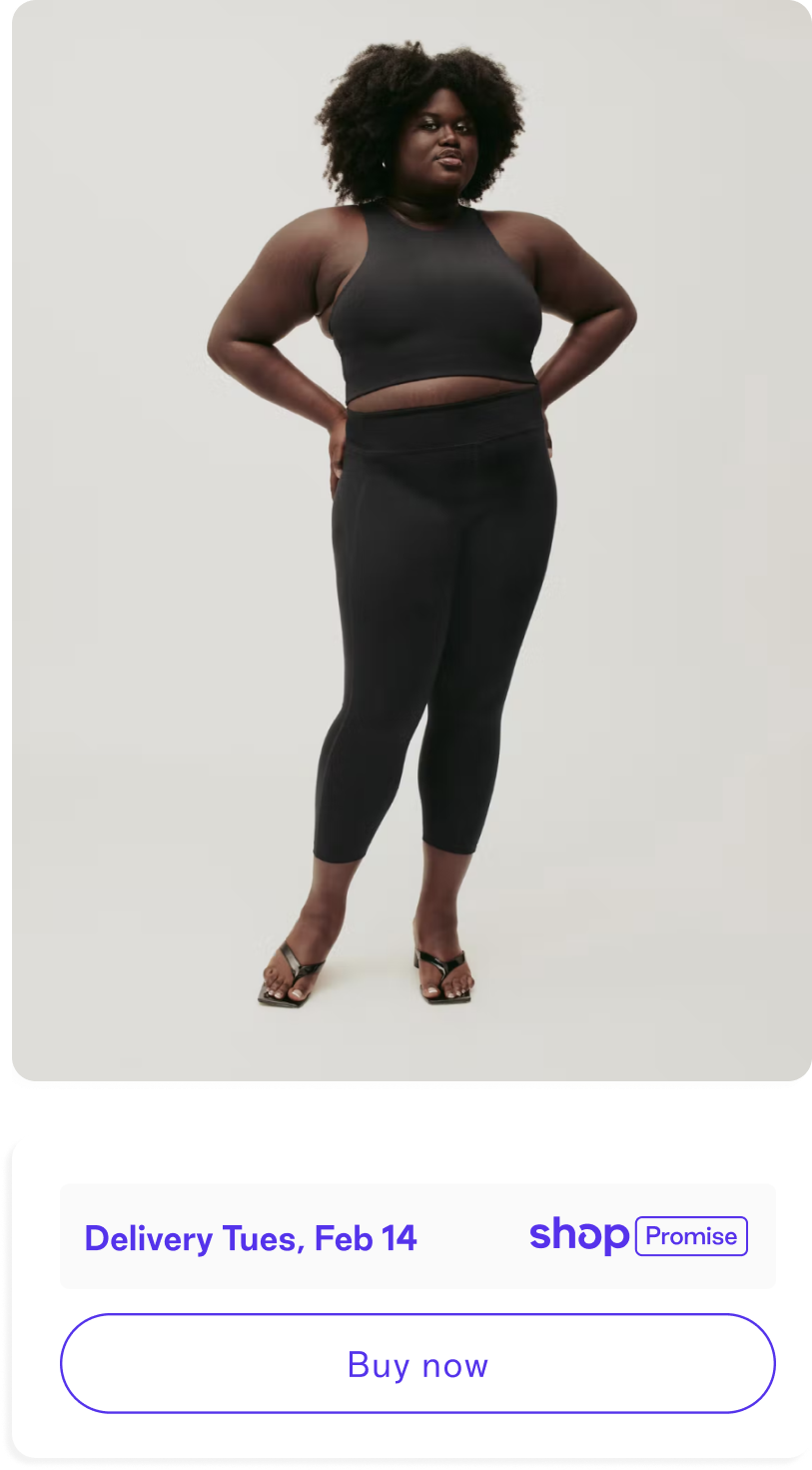 Frequently asked questions
The Shop Promise badge signifies a product has been verified by Shopify for reliable delivery. Purchases where the Shop Promise badge appears include an estimated delivery date for when you can expect to receive your order. Purchases with the Shop Promise badge that arrive after the estimated delivery date may be eligible under our guarantee. The store's terms and policies always apply to your purchase. Shop provides a guarantee as an additional service directly to shoppers.
Which orders are eligible for the guarantee?
The guarantee is only available for orders with the Shop Promise badge that are purchased using Shop Pay. However, if it's your first valid claim under the guarantee, we'll cover it regardless of your payment method. Learn more about our policies and claim eligibility.
What does the guarantee cover?
The guarantee applies to eligible orders with the Shop Promise badge. For eligible orders, if the first delivery attempt was later than the Shop Promise provided date, then you could be eligible to receive the shipping costs associated with that purchase in Shop Cash. Shop Cash use and expiration terms apply.
How do I check that my order was a Shop Promise order?
The Shop Promise badge can be found on:
Eligible product pages
Checkout page on eligible orders
Order confirmation page on a store
In the Shop app on the Orders tab and the order page
Instructions on how to submit a claim can be found on the Help Center. To register for the Shop app, you must agree to the Shop Terms of Service and acknowledge its Privacy Policy. Claims must be submitted within 30 days of the estimated delivery date.
Shop Cash is a reward available to some Shop app customers with billing addresses in the United States (US). Shop Cash can only be used within the Shop app by US customers for purchases from US based merchants that accept USD. Shop Cash will expire 90 days after it is earned. Rewards are non-transferable and have no cash value. Learn more about Shop Cash.
Can I submit a claim on the guarantee before a package is delivered?
No, the guarantee only covers a late first delivery attempt. The guarantee does not cover packages that are lost, damaged, faulty, didn't arrive, or incorrect. Incorrect could mean size, color, or other.
Are there any circumstances where a claim will be denied?
Shop Pay is a wallet that helps you check out faster by automatically filling in your saved email, payment, and shipping details. To qualify for the guarantee, your Shop Promise verified order must be made using Shop Pay. Learn how to set up Shop Pay.